About the Christian Counsellor
for individual and marriage retreats
30 years experience,

compassionate,

gets the job done.
George Hartwell M.Sc.

Christian marriage counselor (counsellor), couple and relationship counselling, individual therapy, life transformation therapist
Experience life transformation and healing of marriage relationships with an experienced marriage counsellor
George's love and humility coupled with 30 years experience with marriage counselling and Christian Life Transformation enables him to deal quickly with the root issues in our lives. Ann says: "You cut through all the filler info and get to the heart of the info."
As a result people can experience emotional breakthroughs, lives being healed and relationships restored. Ann says: "Normally when I see a counsellor or a therapist I end up feeling terrible. I have talked about painful problems and there has been no resolution or healing. but with George, I do feel better and have gotten healing."
My approach to helping
I treat people and prefer not to use labels because I care about people and I am concerned about labels and diagnostic categorization of people. For examples of my thinking see my articles on Nervous breakdown or on Breaking curses.
I believe that a God-given human spirit is at the core of each person and my role as a therapist is to listen to that person as they express their core.
I call what I do "Life Transformation Therapy" because I want people to receive emotional healing at the core that provides a new identity. I believe that when a therapist listens to God and his client that inner core healing can and does occur.
I believe that what we experience as a "nervous breakdown" can be a positive breakthrough. See more on nervous breakdown.
I believe in using a therapeutic process that is accomplishing my client's goal in a way that is deep and lasting. I try to do so with the best available tools that involve the least pain, time or cost and have a high success rate.
Clients have said: "I appreciate your care and your gentleness."
After a retreat for a troubled marriage one participant reported: "George was able to adjust his style based on ours – something truly important when you've committed so much time to this retreat! And with the entire weekend blanketed by faith, this was an experience that will forever help to shape the future of our marriage."
An individual client dealing with a food addiction said: "healing prayer therapy had a tremendously positive effect on my life."
A woman coming out of an abusive relationship said: "I have experienced phenomenal healing and am now confident that complete healing is possible in the immediate future." See testimonies.
Education
George holds:
A masters degree in clinical Psychology (Masters of Science, University of Calgary, Department of Educational Psychology) which included courses in family therapy and a project in desensitization of test anxiety.


A High School Teacher's certificate from Queen's University, Kingston, Ontario;

A BA in Psychology, Sociology and Philosophy from University of Toronto, Ontario.

Theological training (2 years at Newman Theological College, St. Albert, Alberta), Bible school training (Quensway School of Ministry) and advanced training in Christian and Biblical counselling (John and Paula Sandford, Tyndale College).

A course in Spiritual Direction and Psychotherapy from St. Regis College, University of Toronto.
Private practice
My professional counseling practice in Toronto, Ontario is Agape Christian Counselling. I prefer to provide marriage counselling and individual life transformation therapy in 90 minute sessions. Subject to change, my fees are calculated at $100 per hour.
In my practice many problems in marriage are being solved and patterns of marital abuse and conflict are ending. "God has shown us, through George, how to love one another better, how to work towards allowing God to heal us instead of trying to do it on our own."
In Listening Prayer Therapy God heals people's lives. I depend upon His faithfulness and He is always there when I call on Him. Ed says, "We have found joy in being with each other and allowing God to work on our lives, hurts and concerns."
It is especially wonderful to see people enjoying the rest and restoration of being at a Christian Retreat Center, and being healed and set free by the ministry of Jesus to their hearts. The most effective form of therapy I know of is the focussed retreat!
Ed says, "We have found a marriage retreat with George to be freeing, showing us how to get empowerment the right way." May says, "We found our marriage retreat with George to be enlightening, empowering."
George Hartwell M.Sc. - Christian marriage counsellor and inner healing therapist - for individual and marriage retreats Ontario.
Christian Prayer Ministry
George trained Christian prayer ministers at St. George the Martyr Anglican Church - Toronto. He wrote and lead a set of "Transformation Seminars" based on three of John and Paula Sandford's books: Level One: "Restoring the Christian Family," Level Two: "Transformation of the Inner Man" and Level Three: "Healing of the Wounded Spirit." He offers individual mentoring through experience for those wanting training in Christian Transformational counselling. (Bring a tape recorder to your sessions.)
Community Involvement
George is known in the Christian community of Toronto and Mississauga through his leadership in:
Church Involvement
At his local church George has served as an elder, a Sunday school teacher, an Alpha group leader, and a prayer group leader. He also taught on freedom through truth encounters - Neil Anderson.
Attends worship at The Meeting House whose teaching pastor - Bruxy Cavey is becoming quite well known as indicated by the rate of podcast downloads.
Family background
George is the oldest of six children which may have helped him to understand children and keep a sense of humour and playfulness.
George grew up in Toronto and what is now called Mississauga. He has two boys - Christopher and David, and one grandchild - Serenity. George is also acting step-father to Erich (17 years) and John (12 years). Both Kip, and his wife Joey, and son David. are living and teaching in Taiwan.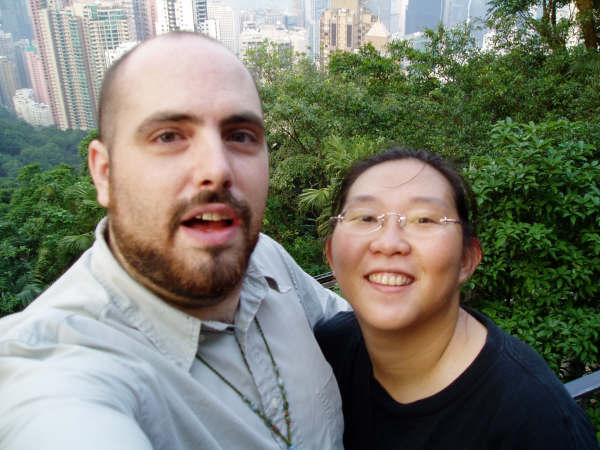 Kip and Joey
George's grandparents were Methodist missionaries to West China. My Father, Robert C. Hartwell (1912-1986) spent much of his childhood growing up in China returning to Canada when he was 12. He later helped his father, Rev. George E. Hartwell in the writing about the China experience. This book, called "Granary of Heaven" was published by the United Church of Canada in 1939.
R. C. Hartwell was budget controller for Orenda Engines - the company that produced the engines for the Avro Arrow and later worked for the Ontario Government at the Treasury Board as a cost control analyst.
More about George at www.HealMyLife.com. See: credibility and go from there.
Mentors in Christian counselling
George's mentors in Christian counselling include:
Building upon and beyond my mentors I have innovated and I call my repertoire of life transforming prayer encounters and other unique methods "Listening Prayer Therapy."
Mentors in Christian counselling - see Links page.
Agnes Sanford, The Healing Light
Right after I made that life transforming decision to give my life to God, I was given a significant book about how to pray by Agnes Sanford - a pioneer voice in Christian prayer and inner healing who founded and lead Schools of Pastoral Care. The book was called: "The Healing Light."
I attended the final mission of Agnes Sanford in Calgary (1975). Agnes Sanford was my first mentor in prayer and inner and emotional healing. She was always clear that imagination plays a significant role in accessing the healing touch of God.
John and Paula Sandford, Transformation of the Inner Man
Early on I began to study the works of John and Paula Sandford of Elijah House: Restoring the Christian Family, Transformation of the Inner Man and Healing the Wounded Spirit. I attended an early training course of theirs in Alberta (1980).
Then, in Ontario, I taught what I learned, collaborated John Arnott and Henry Lunshoff in arranging their early teaching tours in Ontario.
I became deeply immersed and well versed in the material of John and Paula Sandford. I used their material in my professional practice. I taught repeated seminars based on the above three books.
I became a trainer of lay ministry teams at St. George the Martyr Anglican Church working with Rev. Bill and Lynda Riesberry. Along with Don Blair I produced study materials on each book on a chapter by chapter basis.
Leanne Payne, Listening Prayer
Leanne Payne influenced me when I attended her Pastoral Ministry School in the USA near Detroit. Leanne Payne - C.S. Lewis scholar, author, founder of the Pastoral Care Ministry School - provided the vision and testimonies as to the effectiveness of listening prayer in therapy. Leanne Payne - Listening Prayer,
Others Mentors:
John Regier - Biblical Concepts with couples
Neil Anderson - Bondage Breaker,
Russ Parker - Healing Dreams, Their Power and Purpose in Your Spiritual Life.
Art Zielstra - Prayer Counselling and my earliest introduction to TheoPhostic concepts of Christian inner and emotional healing.
Accountability through a Board of Reference:
1. Father Terrence McKenna is the Roman Catholic chaplain at Pearson International Airport where he can be reached at (905) 676-9560. Terry is Chairman of the Board of Reference.
2. Kathryn Richardson of Prime Times Strategies (416) 247-6464, offers consulting services in communications and advocacy for health and human serves organizations. Kathryn is Past President of the Central Ontario Branch of the Kidney Foundation of Canada. Top.
3. Gairey Wayne Richardson of (416) 247-6464, knows me from my support of men's ministries at his local church.
4. Janet Gasparotto is an interior designer and visual artist who knows George's ministry well. Janet leads the prayer ministry teams at Little Trinity Anglican Church in downtown Toronto and George has been on these prayer teams.
5. Margaret Sprenger. Margaret has worked with youth groups, Telecare, and co-ordinated Ontario Fetal Alcoholism Support Network.
6. Rev. Bob Hartley is an Ontario personal and marital therapist using Christian inner healing prayer therapy. He has offices in Peterborough, Toronto and Oshawa, Ontario. Phone: (705) 799-7056.
7. Elizabeth ZinderdeJesus is community and spiritual development leader for the Stonegate Community Ecumenical Ministry - (416) 234-9948. Elizabeth and I have done prayer walks around the Stonegate Community.
Home About Inner Healing, Cost, Location, Links
George Hartwell is a Christian counselor who provides: Christian counseling personal therapy retreats for individuals and Christian marriage counselling intensive retreat and couple retreats. George's therapeutic retreats are for individual and couple work and are not the same as a marraige weekend for groups.
Christain Retreats for Depression Personal Christian retreats retreat for individuals Christian therapy retreats Christian therapeutic retreat / retreats emotional healing retreat / retreats